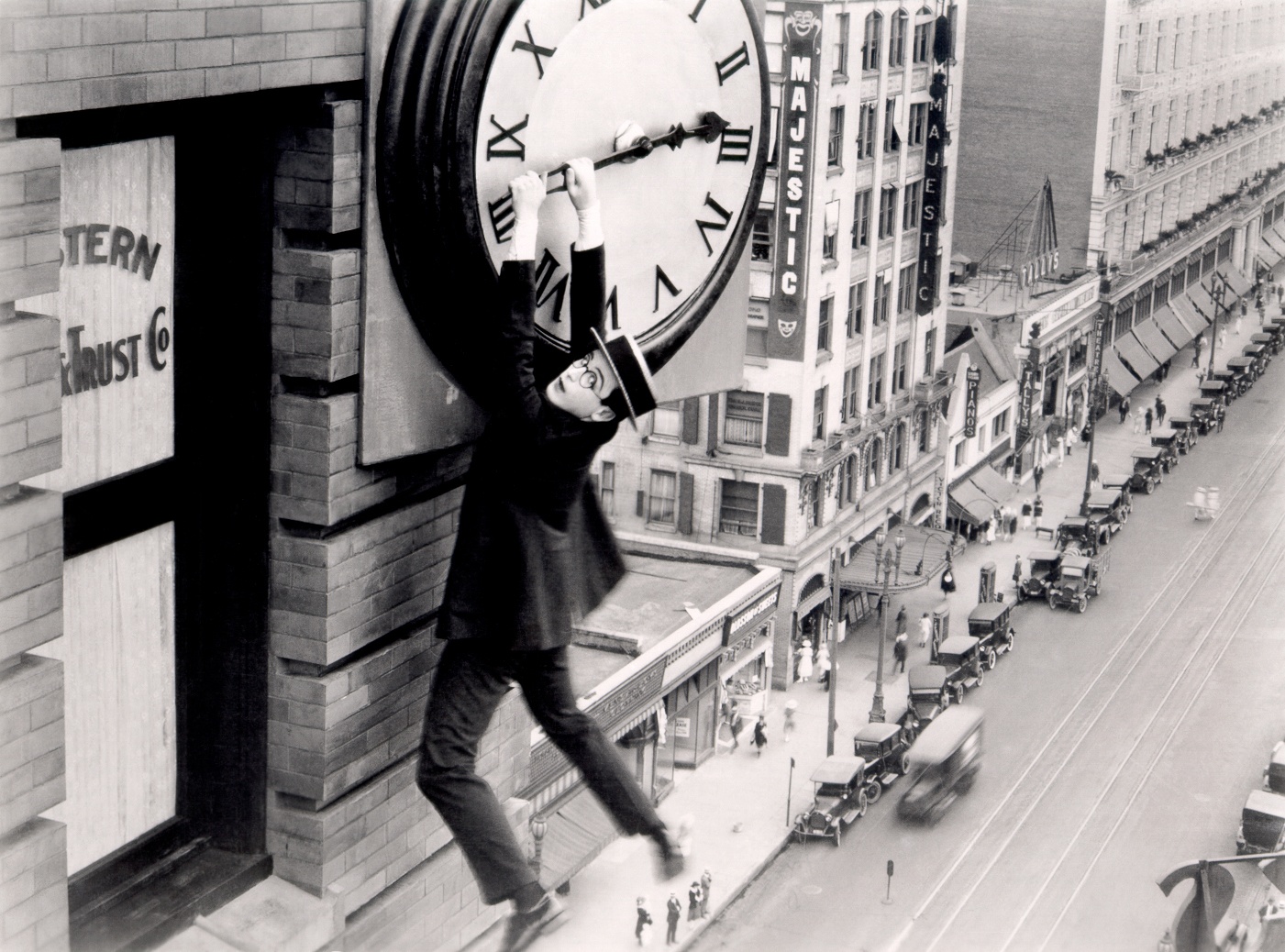 When you think of Harold Lloyd, chances are the image that pops into your head is this iconic shot from "Safety Last!" -- Lloyd dangling perilously off the face of a clock above bustling traffic. It's strange, but when people speak of Harold Lloyd, they tend to pigeonhole him as a thrill comedian. Yes, Lloyd did use plots and gags devised to thrill audiences, but of the hundreds of films Lloyd made, only five of them could be called thrill pictures. It would be unfair to only examine him in that light. In fact, it would also be unfair to simply examine him as a "comedian," because he is much more than that.
He also cleans up very, very well...
In the '80s, David Gill and Kevin Brownlow did a brilliant documentary on Harold Lloyd entitled "Harold Lloyd - The Third Genius" (implying, of course, that Charlie Chaplin and Buster Keaton were the other two). Lloyd, Chaplin and Keaton are, without a doubt, the kings of silent comedy, but to compare them beyond that is almost unfair. Chaplin and Keaton grew up in the worlds of the English music hall and vaudeville, clowning in front of audiences, so by the time they entered the world of film, their transition was, for the most part, smooth. Yes, it took a while for them to establish their respective characters, but they understood how to be funny. Lloyd did not have that kind of background. He was an actor who, in a matter of speaking, had to learn to be funny. The refining of technique that Chaplin and Keaton honed on the road, Lloyd did real-time in front of a cameraman. The fact that Lloyd's background was as an actor and not as a comedian allowed him to give performances that, honestly, I'm not sure Keaton or Chaplin could have done.
I thoroughly enjoy Lloyd's thrill pictures, but my favorite Lloyd film is not "Safety Last!" or "Never Weaken." In fact, it's a film that he made years after "Safety Last!" It's a beautiful, funny, sweet little film called "The Kid Brother."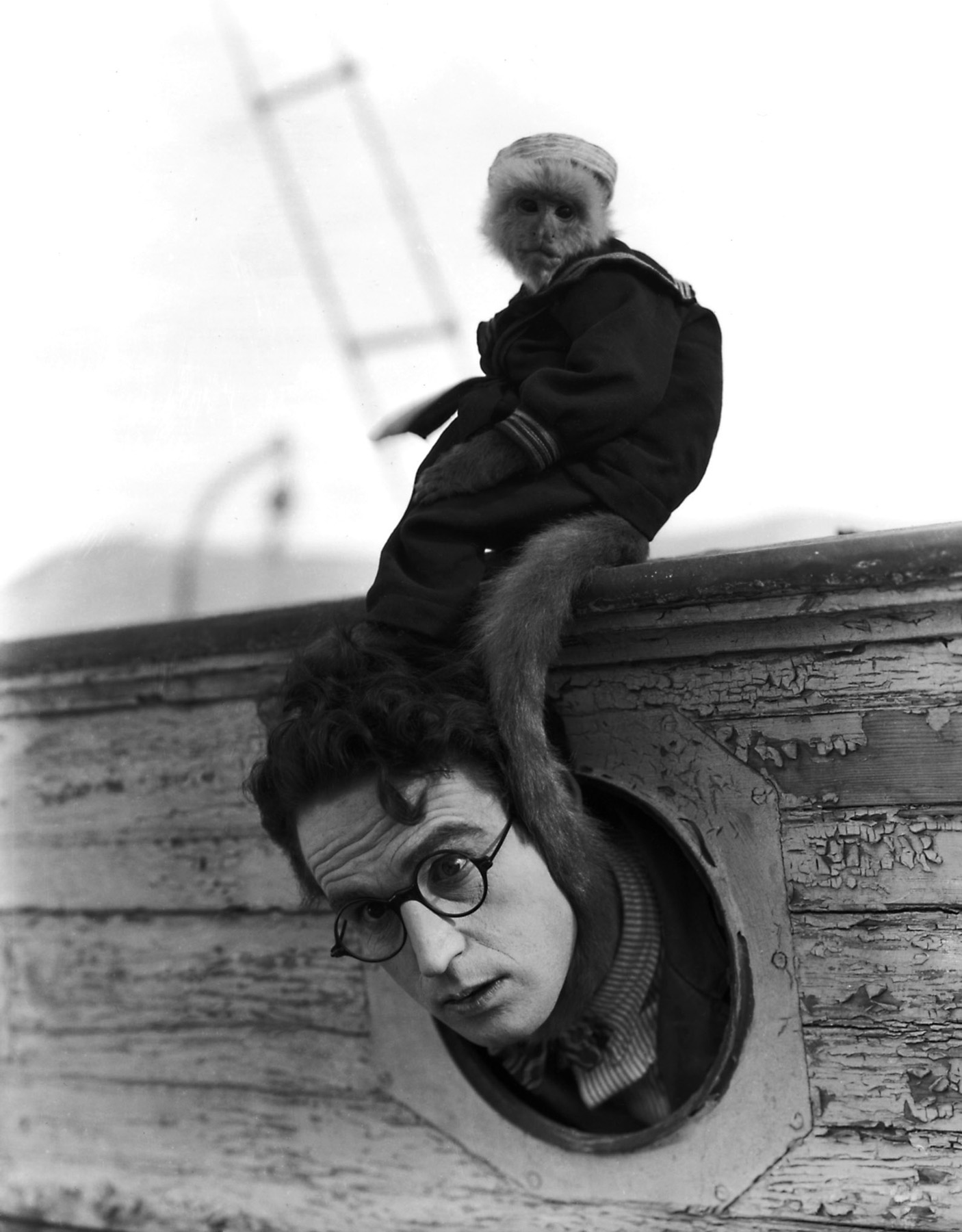 The Story
No matter how hard he tries, Harold Hickory (Harold Lloyd) can't seem to get above his 'kid brother' image. Relegated to doing little more than the housekeeping duties of the farm, Harold just can't gain the respect of his brothers or, worse yet, his father, Sheriff Hickory. He's intelligent and clever, but frequently he finds himself daydreaming that he's the tough and rugged man his father is. But just as quickly, he's pulled from those daydreams, be it because of a glance in the mirror or a mean-spirited prank created by his sworn enemy Hank Hooper.
Mary (Jobyna Ralston) enters Harold's life quite unexpectedly. After inheriting her father's medicine show, Mary is reluctant to keep it on the road. Especially considering the other members of the show, the shady Flash and frightening Sandoni.
As Harold is daydreaming, wearing his father's badge and hat, Flash stops to get his approval to put on the show. Harold hasn't the heart or the nerve to tell him he can't, so he reluctantly signs the permit as Mary watches from afar.
Feeling guilty, Harold wanders through the woods and comes to Mary's aid as she is being lustfully pursued by Sandoni. Wielding a branch -- and unaware of the fact that there is a snake wrapped around it -- Harold frightens Sandoni away and he and Mary immediately fall for one another.
Harold's father learns that the medicine show has set up shop because of Harold, so he forces him to go into town and shut it down. Knowing that Mary is a part of the show, Harold is even more reluctant to raise his voice. He is immediately mocked by Flash, Sandoni and Hank, and by the time his father and brothers intervene, the medicine show trailer and stage have burned to the ground, leaving nothing behind.
Upset by her loss, Mary looks for comfort in Harold and he, being a true gentleman, takes her home with him to give her a proper place to spend the night. A brilliant sequence follows that involves Harold attempting to avoid his brothers and Harold's brothers attempting to avoid Mary, all the while Harold is treating Mary like a queen. Once they are settling in for the night, the Hoopers show up to take Mary to their house, claiming it isn't decent for her to stay in a house with no womenfolk.
Harold's brothers get locked out in the rain trying to avoid Mary...
...and wait at the top of the stairs to get their revenge on Harold.
Knowing his brothers are waiting at the top of the stairs to pummel him, Harold takes advantage of their ignorance of the situation and sleeps in the partitioned part of the dining room that he had created for Mary. What he didn't expect is that his brothers would try to impress Mary with breakfast in bed the next morning, forcing Harold to carefully hide his identity behind his walls of Jericho, as Clark Gable would say. This leads to a brilliant reveal and chase that is so detailed, to try to recall it here would not do it justice.
Harold impersonates Mary...
...and reaps the benefits.
While Harold is narrowly avoiding his brothers, we learn that Flash and Sandoni, eager for money and revenge on the Hickorys, have stolen the money the town had put towards building a new dam. This causes the Hoopers and the rest of the townsfolk to suspect Sheriff Hickory has kept the money for himself. Harold's brothers immediately set off to search for Flash and Sandoni, both whom Sheriff Hickory suspects almost immediately, but when Harold goes to join them, his father tells him it's not his place to do so.
Wanting to prove himself, and falling victim, once again, to Hank Hooper, Harold serendipitously arrives at a boat housing Flash and Sandoni for the time being. A fight breaks out between Flash and Sandoni as Sandoni, wanting all of the money for himself, beats up and locks Flash in a trap door of the ship. Harold, who had been hiding, is revealed by Sandoni's thieving monkey and a fight ensues.
Harold captures Sandoni with life saver rings...
...and carts him back to town.
When Harold finally incapacitates Sandoni, he rushes back into town with Sandoni and the money, to clear his father's name. Lauded as a hero, Harold has finally earned his father and brothers respect, as well as that of the entire town. Riding high, Harold takes one last shot at Hank, leaving him in the dust as he and Mary walk off, arms around each other.
The End Result
This film, along with "Grandma's Boy," are the best examples of Harold Lloyd's acting ability as well as his comedic talent. It combines some of Lloyd's greatest gags with romance, action, and, yes, a bit of drama. It really combines the best of all worlds.
The confidence Lloyd shows in himself and the cleverness of his character make us laugh while, at the same time, charming us. Others have said that two of the elements that separated Lloyd from Keaton or Chaplin were 1) The audience could easily believe Lloyd as a real person and 2) The audience could easily envision Lloyd as a romantic interest. Both of these qualities are beautifully illustrated shortly after Harold and Mary meet.
As Mary takes leave of Harold to return to Flash and Sandoni and begins to wander out of sight, Harold, not wanting her to go just yet, climbs higher and higher in a nearby tree so that he may catch a glimpse of her and yell his goodbyes. Lloyd's heartfelt sighs and daydreamy bliss are then comically disrupted when he falls out of the tree and then, unhurt, begins plucking the petals off of a flower, reciting, "She loves me...she loves me not..." It's difficult to envision either Keaton or Chaplin taking Lloyd's place in this scene. The sequence is sweet and full of emotion, without sacrificing humor for sentiment. You can watch it below.
Although "The Kid Brother" is definitely not a thrill comedy, Lloyd has plenty of opportunities to show off his incredible athleticism. From taking on Sandoni in the bowels of the ship, -- much of it done underwater, no less -- to numerous chase sequences, Lloyd takes it all on without a stunt double.
The gags in the film are too numerous to mention. Lloyd and his writers were in top form during the writing of "The Kid Brother" and use every available opening to insert a joke. And contrary to what one may assume with such a joke-heavy film, none of them feel forced and all are in keeping with the tone of the film. Whether it's a gag to further illustrate Harold's intelligence at outwitting his romantic rival, or a desperate attempt on Harold's part to stay away from his bully brothers, all of the gags work incredibly well together.
Harold fools Hank by placing his hat on a helpful pig.
Attempting to outrun his brothers and talk to Mary.
Conclusion
"The Kid Brother" was released in 1927 which was an incredible year for film. A number of superb, popular films were released that year, including Keaton's "The General," "Metropolis," "Wings," "It," "Sunrise" and "The Cat and the Canary." Also debuting in 1927 was the film that would turn the world of film upside down, "The Jazz Singer." Even considering the competition, "The Kid Brother" still holds up as one of the strongest and best films of that year and of all time. Like "The General," it has become a classic both for its story and its technique.
The camera work is superb, implementing sophisticated tracking shots, clever angles and beautiful lighting effects. And with the fine edition of a musical score penned by the incredible Carl Davis, it is, without a doubt, one of the finest films Lloyd ever made.